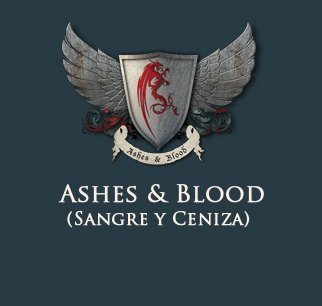 Nota de prensa.
El proyecto de fotografía Ashes & Blood, es una iniciativa artística de fantasía medieval, dirigida por los fotógrafos
Ashary y Peck y . Ellos han querido reflejar, amparados por un tipo de imagen aceptada mayoritariamente, un mensaje de crítica social contra el metabolismo de las sociedades industriales, haciendo paralelismos en la historia narrada mediante estas fotografías, con conceptos tan actuales como la deforestación del Amazonas y el hambre insaciable de las sociedades occidentales por los recursos del planeta. Con la colaboración de diferentes profesionales del ámbito de la imagen y audiovisuales, estos dos artistas han juntado los estereotipos de la fantasía tradicional, visible en el mundo de los juegos de rol, con la estética celta, típicamente europea. El grupo creativo valenciano «La Brigada Gráfica», al cual pertenece también Ashary, ha colaborado de manera notoria en el diseño de vestuario, planificación y desarrollo de las escenas, así como en la producción editorial y de impresión. También se han prestado ellos mismos como modelos, apareciendo en las fotografías Kimo, Recóndita y Rey Mono Gráfico. Todos los modelos, así como el conjunto de profesionales de maquillaje, peluquería y asesoramiento escénico y audiovisual, son parte del escenario cultural underground de Valencia (España), demostrando que aún con pocos recursos, se puede hacer un trabajo de una calidad respetable, poniendo en evidencia el hecho de que el talento, la imaginación y la intuición artística son lo más importante para poder realizar una obra satisfactoria, tanto para los propios artistas como para el público en general.
Guión: Pablo Nuñez Ruiz. 
---
Civilización de los Garantes
Como no puedo evitar que todo tenga un mensaje, tengo la necesidad según se mire, de transmitir mis experiencias canalizándolas a través de este arte llamado fotografía. Es mi medio expresión visual, a veces con la imagen se dice más que con las palabras. En el momento que tengo una oportunidad transformo mis inquietudes en fantasía, pues siento que es un buen canalizador para evadirme de este mundo. Como persona realista e idealista, adaptada a esta sociedad que me toca vivir, me cuesta comulgar con la dinámica impuesta, y es en estos proyectos personales, cuando tengo la oportunidad de expresar mi denuncia a las injusticias que aceptamos al formar parte del engranaje.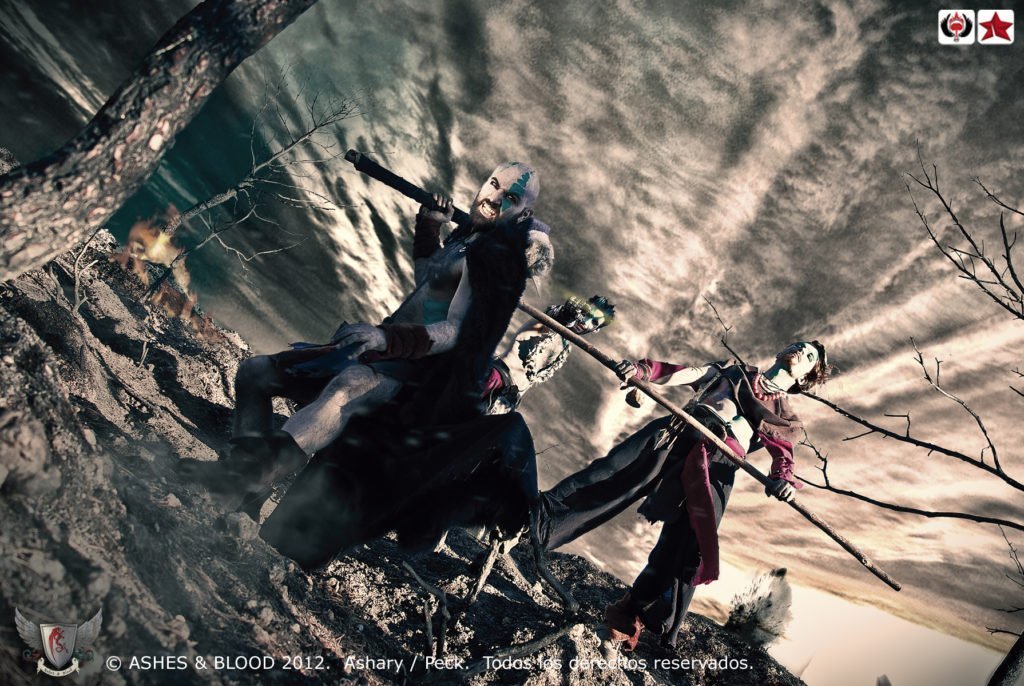 El nacimiento de los garantes fue a causa de ciertos acontecimientos que se sucedieron a mi alrededor. Meses atrás ocurrió un suceso desolador. Parte de los bosques de nuestra comunidad fueron arrasados por un incendio, yo lo vi a través del televisor, y todo desde ese punto parece más lejano, es como algo ajeno. Me dolió , pero cuando una amiga que vive en el área devastada, me contó aquellas cosas que no salen en la televisión con ese manto de «no es tanto como parece» que nos intentan inculcar, lo hacía con un nudo en la garganta y una inevitable lagrima de desconsuelo, comprensibles debido a cuando se tiene un amor a la vida natural y todo tu entorno está inundado de restos quemados de lo que anteriormente era bosque.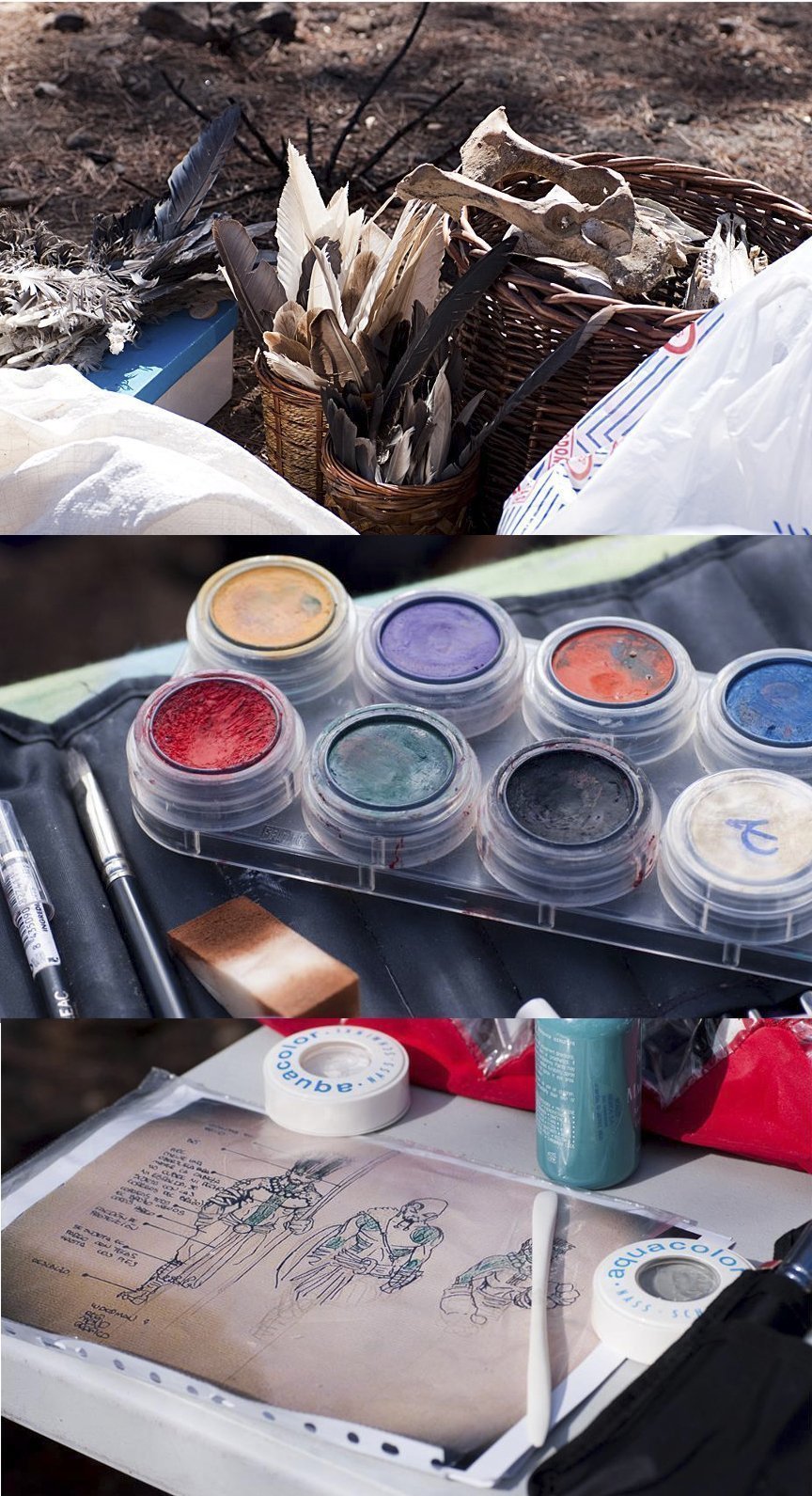 Fue en estos momentos cuando el fotógrafo Peck González, compañero mío en otros proyectos, me propuso la realización de una sesión artística de fantasía medieval. Como caído del cielo, se me presentó la oportunidad de expresar todas estas inquietudes que me carcomían por dentro. En principio teníamos que repartirnos el trabajo, pensamos que lo mejor era hacer dos equipos diferenciados, y como la sesión tenía que realizarse en un día
hicimos dos bandos «los aventureros» y los «Garantes». Peck se quedó con los aventureros y yo con los que en principio debían ser los malos, ya que por nuestros estilos fotográficos creímos que era lo más adecuado. Yo quería inventar una civilización, explicarla y llegar a empatizar con ella.
En poco tiempo se quemó el verde cetrino, y se presentó un universo de carbón hasta más allá de donde alcanzaba la vista. De esa lejana noticia, que me afectó como a cualquiera que esté un poco implicado en estos menesteres, el hecho de hablar con una persona cercana y directamente implicada en esa desgracia, me hizo vivir súbitamente la realidad de una manera mucho más palpable. Aún más alarmante, es enterarse de que la devastación del entorno natural se podría haber reducido significativamente con los medios de contención adecuados, siendo estos los servicios forestales de las administraciones públicas, pero no pudo darse este control del fuego, debido a que a los ayuntamientos no les pareció necesario invertir en tales servicios, dejando latente la tendencia de la sociedad occidental en la que vivimos: si no da dinero, no se invierte.
Y por desgracia, la conservación del medio natural no consta dentro de la lista de inversiones rentables, a pesar de que es lo que sustenta la vida en todo el planeta. Esta reflexión me lleva a querer plasmar el hecho de que, aunque nos venden nuestro sistema como un modelo de progreso, no tenemos escrúpulos a la hora de devastar el medio natural para lograr nuestra satisfacción económica, y tampoco se han tenido en este caso frente a la desgracia que vivió tanto el medio rural, como las familias que habitan el mismo, ajenas a los usos despiadados del capital.
En esta exposición solo se muestra a los personajes en un punto concreto en el tiempo. Fotografías estilo peanas de nuestros personajes, unas pocas fotos de la batalla y al parecer la muerte de una civilización. Pero ¿por qué razón ocurre esto?, ¿qué ha pasado en este mundo imaginario para que se dé lugar a este conflicto? Como en muchas historias existe un reino, con una población dotada de todas las comodidades de su tiempo, ignorando la convivencia con el medio natural y en consecuencia no siendo conscientes del efecto que causan en el mismo, mediante la explotación de sus recursos.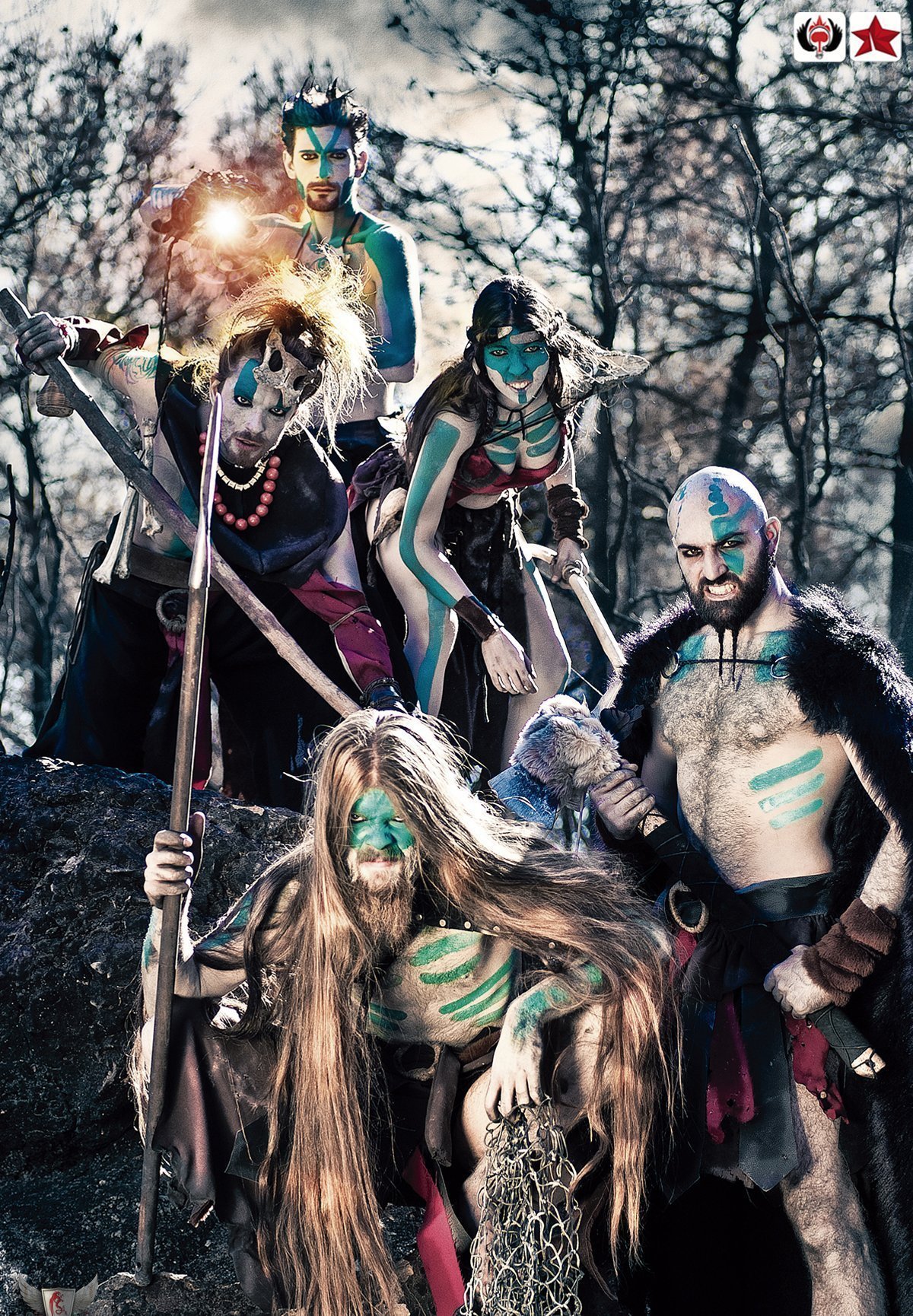 Una idílica sociedad que prospera y se desarrolla al margen de tales efectos. Viene a representar aquello que a todos nos inculcan desde que nacemos, sobre lo avanzada que está la sociedad civilizada en la que vivimos, sin contarnos mucho más de las consecuencias de este progreso. Pero como en muchas ocasiones, todo buen envoltorio oculta la realidad dentro de una caja de secretos, nos gusta pensar que lo que hacemos es por un bien común y que en el fondo ese crecimiento es bueno.
¿No será acaso que se nos ocultan ciertas informaciones? ¿o quizás, siendo conscientes o no, nos sea más cómodo dar la espalda a estos temas, queriendo no pensar en ellos, a modo de ilusorio escudo contra la realidad? ¿Pero de quién depende la configuración de este escenario de idílica vivencia? ¿A qué precio pagamos en realidad estas comodidades? Como se dice, la historia la escriben los vencedores, pero lo cierto es que no se estudia la realidad desde todos los ángulos.
Los garantes son el fallo de esa ecuación, lo que se esconde debajo de una alfombra llena de hollín. El secreto de una civilización que para algunos es sobrante, para otros leyenda y como dirían en aquel reino, molestos bárbaros que se interponen entre su civilización y los recursos que esconde el medio.
Esta historia busca retratar de manera sencilla estas problemáticas, a la vez que se pretende reflejar el shock que supone, para quien vive en armonía con el medio natural, constatar el egoísmo y la carencia de compasión por parte de la «civilización».
Texto: Lidia Aparicio sales.
---
Diseño de personajes / Ilustarción: ​Guillermo Manuel Ros ​Garcia. https://www.facebook.com/Guillermo.m.ros.garcia?fref=ts 
---
Arte final : Fotografías Garantes
Algunas imágenes de los Garantes que forman parte de la historia épica Ashes & Blood.
Agotados los libros.
Fotografía y retoque: Lidia Aparicio Sales.
---
Making Of – Ashes & Blood.
Making of : Jose Luis Aparicio.
---
Garantes: Kimo – kimo.grafico@gmail.com
Recóndita – reconditailustracion@gmail.com
Rey Mono Gráfico – reymonografico@gmail.com
José Tamarit Manu
«Thunder» Silvestre – msilvestreg@gmail.com Coreógrafos de combate: Demon Mambo – davidgallen@gmail.com
Caracterización : Ana López Gema Pérez Saray Ruiz – Ocaña
Diseño personajes: Garantes / Rey Mono Gráfico, Ashary
Aventureros / Peck
Vídeo y realización: Jose Luis Aparicio – hansokaz@gmail.com
Todo el equipo que hizo esta fantasía  en realidad. ¡¡Muy grandes!! 
Siempre estaré agradecida por tal bella ventura. :D